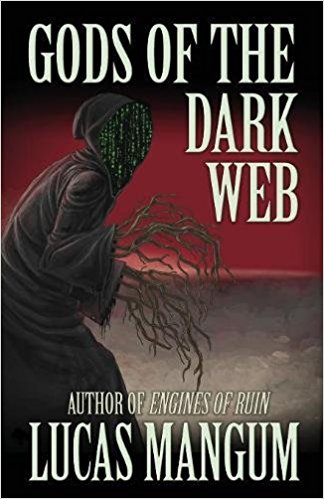 Click here to order via Amazon
As a species we've left little unexplored.  The true unknown, however, is the man made abyss of the internet hidden behind a digital closed door.  Gods of the Dark Web explores what lurks beyond the visible internet.
In a bizarro universe David Cronenberg would complete his 'Media Trilogy' with Gods of the Dark Web.  Following the "this is what will happen nature" of film/television in Videodrome and video games in eXistenZ, Cronenberg would embrace his extremes and go into the deepest and darkest layers of what humans are capable.

Gods of the Dark Web establishes author Lucas Mangum as a contemporary of extreme authors such as Wrath James White and Edward Lee. A fast paced and unrelenting feel terrible that poses questions about humanity to which we may not want to know the answer, Gods of the Dark Web is hopefully the first of many books by Mangum exploring this world.