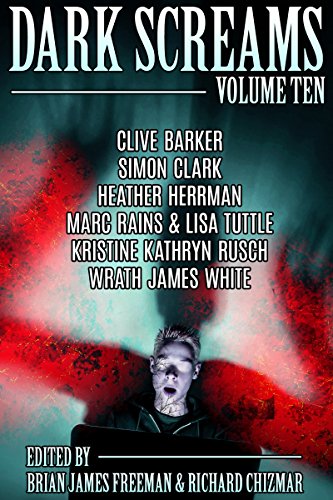 Click here to purchase via Amazon
Most anthologies leave me with a feeling of time wasted having read filler material that wasn't good enough to be worthy of a long form story. Although Dark Screams: Volume Ten didn't bat .1000, it is certainly one of the strongest anthologies in recent memory.
Bastion by Simon Clark
Massive in size when compared to the other stories in the anthology, Bastion explores a futuristic(?) apocalyptic (?) universe(?) ran by a group of young military boys. Without reason the boys fight z mysterious enemy and keep giant machines running day after day in a miles long decaying bunker.
Clark creates an engrossing world with his questions and motivations of the characters.
While certainly more science fiction than horror, Bastion is a great story to lead the anthology.
On Amen's Shore by Clive Barker
Like most Barker works On Amen's Shore needs a reread (or twelve) to fully comprehend, I'd that's at all possible. Starting a Barker work I'm always  trying to compute if human beings, gods, or one of a million variations between are being spoken of and speaking.
On Amen's shore follows two men (?) searching for a man eating fish.
This is Jaws filtered through the fantasy of Barker. Dream worlds, multiple moons, and god hatred meet Moby Dick in On Amen's Shore.
The Woman in the Blue Dress by Heather Herrman
The Woman in the Blue Dress is an average short story in an anthology; something that is fine to read, but not memorable. It tells of  woman meeting a mysterious stranger (in a blue dress) and the predictable outcome and revelations associated with this stranger.
Seven Years by Wrath James White
Wrath James White is one of my favorite authors. Known for his extreme horror work, Seven Days finds him fitting nicely within the confines of a more mainstream anthology.
Seven Years shows that although you may have changed your life, it may come back to haunt you.
White 's story climaxes, like Woman in the Blue Dress in the short horror story tradition of going out with a Tales from the Crypt style zinger ending .
Dark Water by Marc Rains and Lisa Tuttle
In Dark Water a man believes he finds his soulmate and is invited to her home. In a well written, but forgettable story, he finds the truth about his newfound lover.
The Trendy-Bar Side of Life by Kristine Kathryn Rusch
There is a thin line between horror fiction and real life horror. While most horror fans are thrilled to see Tom Savini create realistic gore for Romero or Henry Rooker violently end his victims lives in Henry: Portrait of a Serial Killer, few genuinely want to witness real life atrocities.
Works by Jack Ketchum such as A Girl Next Door and Stranglehold have a valid place in the world of horror fiction, as does Rusch's The Trendy-Bar Side of Life. However, the subject matter deserves to be placed with other stories that compliment it's tone and ernesty. The deep subject matter of the psychology of rape victims is a jaring end to the book.